Kitchen Conservatory has been creating fun, informative YouTube videos that are gaining in popularity with over 7,000 views! Discover how to use of our favorite kitchen tools, choose a chef's knife, tips on making perfect homemade potato chips, and fun moments from some of our popular cooking classes!
Subscribe to our Kitchen Conservatory You Tube channel.
Enjoy some of our videos, and see why We Make Cooking Fun!
Tool Time: Let's Make Incredible Potato Chips!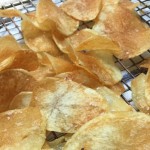 Tool Time: Using a Pitting Spoon
Tool Time: Making Whipped Cream with a Cream Whipper
Tool Time: The Art of Pizza Throwing – a fun class for everyone!