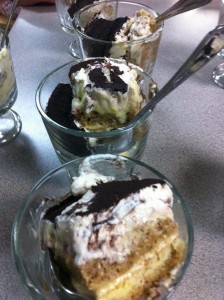 The combination of cake and custard has many names: tiramisu, charlotte, trifle, zuppa inglese, bavarian, or summer pudding. The addition of the custard keeps the cake moist and lengthens the shelf-life. Cake tastes best the day it is made; tiramisu (which uses mascarpone cheese instead of custard) is delicious for days. Traditionally, tiramisu is flavored with coffee and chocolate, but other flavors can be substituted. To make a trifle, layer the sponge cake with fruit jam, vanilla custard, and fresh fruits. These desserts are usually seasoned with flavored liqueurs, which keep the cake moist. Tiramisu can be made with ladyfingers or sponge cake or the very crisp Italian ladyfinger cookies, known as savoyard biscuits.
Karen asked for our best tiramisu recipe; here it is:
Tiramisu
for the Sponge Cake:
6 eggs, separated
¾ cup sugar
¾ cup cake flour
¼ teaspoon salt
Whip the egg whites until stiff and add ¼ cup sugar and continue whipping for another minute until glossy. Whip the egg yolks with ½ cup sugar, salt, and vanilla until very thick and pale. Sift the flour on top of the whipped whites, pour in the yolk mixture, and – using a whisk – gently fold together all three mixtures. Spread onto two nine-inch lined cake pans. Bake at 350 for 15-20 minutes, or until the top springs back when touched. Cool.
for the Espresso Syrup:
1/3 cup water
1/2 cup sugar
2/3 cup strong brewed espresso coffee
1/4 cup Kahlua
For the syrup, combine water and sugar in a small saucepan. Bring to a simmer, stirring occasionally to dissolve sugar. Remove from heat, cool and add coffee and Kahlua.
for the Mascarpone Filling:
2 cups heavy whipping cream
1/3 cup sugar
2 teaspoons vanilla extract
1 pound mascarpone cheese, softened to room temperature
For the filling, whip cream with sugar and vanilla until soft peaks form. Fold cream into softened mascarpone.
Finishing
Grated chocolate
To assemble, place a layer of the sponge cake in the bottom of a trifle bowl. Sprinkle with half the syrup. Spread with half the filling. Repeat with remaining cake, syrup and filling, spreading the top smooth, using a metal spatula. When ready to serve, sprinkle with grated chocolate.