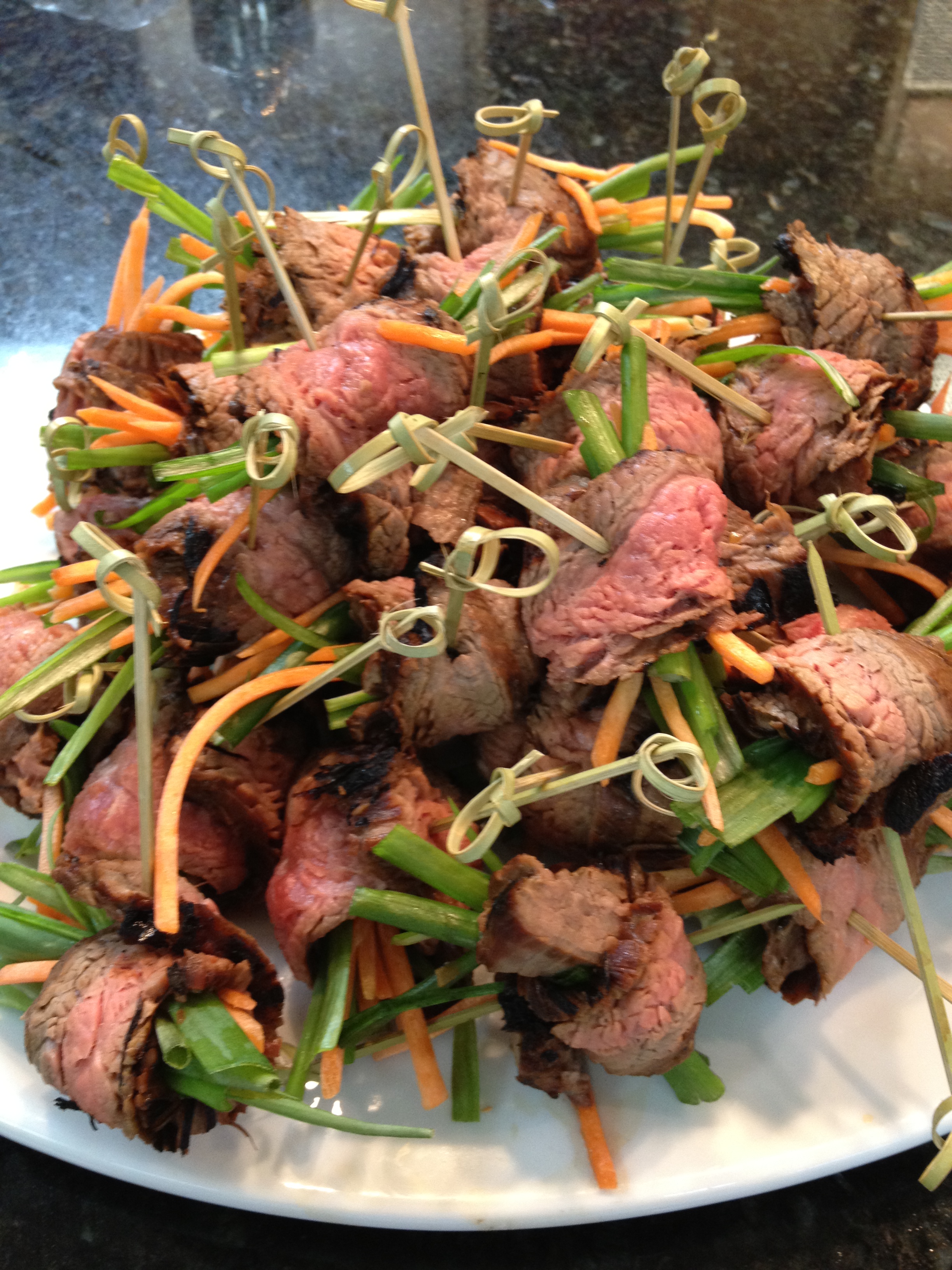 This beautiful appetizer is bound to be a hit. The grilling season has opened (with an 80-degree day today), so fire up the grill with a delicious bite of beef tenderloin.
Brush up on your grilling techniques on our outdoor grill in these upcoming cooking classes:
"Grill Interrupted" on Sunday, April 29
"Grilling University: Fish and Seafood" on Friday, May 4
"Shellfish on the Grill" on Sunday, May 27
"Beer. Backyard. Barbecue" on Thursday, May 31
"Grilling University: Beef and Lamb" on Friday, June 1
"Hooked on Grilled Fish" on Thursday, June 7
"Grilling University: Chicken and Pork" on Friday, July 6
Tenderloin Roll-Ups
2 pounds beef tenderloin
olive oil
salt and pepper
1/2 cup heavy cream
1 tablespoon prepared horseradish
2 tablespoons Dijon mustard
1 zucchini
1 carrot, peeled
1 red bell pepper
1/2 pound snow peas, strung
1 bunch green onions
Rub the tenderloin with oil and season very well with salt and pepper. Place on a hot grill and cook the meat until the internal temperature of the beef is 120 degrees. Remove and let the meat rest for at least 15 minutes.
For the sauce, whip the cream. Fold in the horseradish and mustard. Season with salt and pepper.
Slice the zucchini (the green part — discard the center), carrots, and red pepper into julienne slices, about 2-3 inches long. Slice the snow peas into thirds. In a large skillet, heat 2 tablespoons oil. Saute the vegetables until tender-crisp. Season with salt and pepper. Remove from skillet and let cool. Cut the green onions into 2-3 inch lengths and fold into the vegetables.
Slice the beef very thin. Spread the cream on each slice. Place some vegetables on each slice and roll tightly.