The long wait is over; our famous locally-grown garlic is now available at Kitchen Conservatory. Planted last October, garlic is a nine-month crop and fresh garlic is worth the wait. Plus, our homegrown yellow shallots, which have the same nine-month growing cycle as garlic, are also available.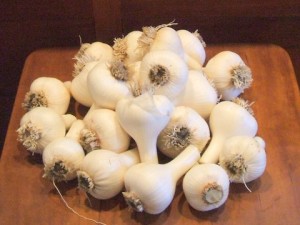 The best way to eat fresh garlic is to peel the cloves, place in a ramekin, submerge in olive oil, and bake at 275 degrees for 20-30 minutes, or until the cloves are soft. Spread the creamy garlic on bread or potatoes and use the garlic oil for salad dressing!
Sign up for our celebration of homegrown garlic, "Dracula, Beware!" on Thursday, July 31 at 6:30 pm. Every class-taker gets a free sack of fresh garlic to take home!