When Mickey Kitterman presented a non-corned beef menu for St. Patrick's Day, we said, "great." When we tasted the Irish Whiskey Butter on Guinness Rib-Eye Steaks, we said, "wow." Don't wait until March to eat this superb entree! Make extra of the butter sauce just to slather on bread.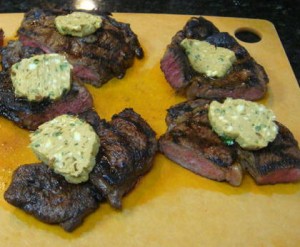 Adding flavors to butter, known as compound butter, is a simple way to make a tasty sauce. The butter can be make ahead of time and stored in the freezer.
To see Mickey Kitterman make and flame this butter in class, register for "Dublin Your Pleasure" on Sunday, March 16 at 1 pm.
The recipe for Guinness Rib-Eye Steaks with Irish Whiskey Butter is available as an unlimited digital download for $1. This recipe is #27 on our list of Top 30 Recipes for the Thirtieth Anniversary of Kitchen Conservatory.