Although the extra-cool Spring has been frustrating to gardeners (we lost our tomato plants last night due to an unexpected frost), the time is right to plant herbs. No plant is as satisfying to grow as herbs, since they generally grow like weeds. Every cook appreciates a bunch of fresh herbs readily available by the kitchen door.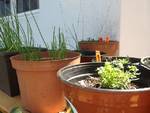 If you are a member of the Missouri Botanical Garden, please sign up for a talk on "Herbs in the Year of Food" with Anne Cori on Thursday, April 25 from 11 am to noon in the Schoenberg Theater. The speech will focus on how to utilize fresh herbs in cooking.
Ready to start using fresh herbs in cooking? Join us for one of these herb-inspired cooking classes:
"Right on Course" on May 7 at 6 pm with Cassy Vires of Home Wine Kitchen
"School of Fish" on May 8 at 6:30 pm with Barb Nack of Kitchen Conservatory
"Make-Ahead Appetizers" on May 9 at 6 pm with Margi Kahn
"Sassy Sauces" on May 21 at 6 pm with Mickey Kitterman of Gallagher's
And to get you salivating for the pleasures of fresh herbs, here are three herbal condiments.
Classic Italian Pesto
4 cups packed basil leaves
½ cup spinach (helps to keep the pesto bright green)
½ cup parmesan
1 garlic clove
¼ cup pine nuts, toasted
½ cup olive oil
In a food processor, puree the basil, spinach, parmesan, garlic, and pine nuts. Drizzle in the oil to make a smooth paste. Toss with cooked pasta or spoon into vegetable soup.
Chimichurri Sauce (Argentine Pesto)
1 cup flat-leaf parsley (no stems)
1 cup mint leaves
1/3 cup olive oil
¼ cup fresh lime juice
2 garlic cloves
1 teaspoon chopped jalapeno
1 teaspoon cumin seeds, toasted
1 teaspoon salt
Puree all of the ingredients in a food processor. Use as a garnish on top of cooked meats or seafood.
Gremolati
Zest of one orange or one lemon
1 garlic clove
1 bunch flat-leaf parsley leaves (no stems)
Chop all of the ingredients together. Use as a garnish on top of cooked meats.