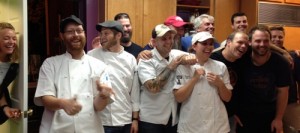 What's for dinner? If you were given a piece of meat, could you make dinner? This challenge is often seen on television, but you never know what tricks are played to achieve a winner. At a live event, anything can happen!
An extraordinary competition took place last Monday night at Kitchen Conservatory that showcased five up-and-coming chefs who were put to the test. As one chef said at the end, "it was the most difficult thing I've ever done, but I'd do it again in a heartbeat!"
Sous-chefs from Acero, Annie Gunn's, Farmhaus, Niche, and Sidney Street Cafe competed for a $5,000 prize. Winner take all. The result? St. Louis has young guns with talent, ambition, and energy. As Vince Bommarito, Sr (one of the five judges) said, "Everyone is a winner tonight."
No one knew what the mystery ingredient was until unveiled: leg of lamb from Farrar Out Farm. Leg of lamb was chosen because none of the restaurants currently offer it on their menus. And leg of lamb proved to be a challenge for several of the young chefs. They had 1 1/2 hours to create two dishes. How would you cook a leg of lamb?
The five chefs worked very hard, but with different styles. Some chefs were so cool, calm, and meticulous that their work spaces were very organized and the unused ingredients were dutifully returned to the communal table. Other chefs were flummoxed.
How to cook a leg of lamb? Some immediately ground the meat and made meatballs and rillettes. Others braised the lamb in a pressure cooker or open-braised to make a ragu. One chef pounded out the leg to create a roulade. And another chef trimmed out the most tender portion of the leg and thinly sliced it for a stir-fry.
Many home cooks second-guess themselves on cooking dinner and it is refreshing to see how often professional chefs second-guess themselves, also. Every one of the contestants started a dish, but changed it dramatically or dumped it all together, including gnocchi and dumplings that were made, but not used when the dishes were plated. "Is this lentil-meatball soup?"  No, said the chef, "it's lamb soup; I changed my mind and the meatballs went into another dish." One judge asked, after seeing a chef repeatedly refer to his notebook, is that chef checking a cookbook? No, not a cookbook, but the notes that he wrote as soon as he heard "leg of lamb."
Every cook — restaurant or amateur — complains about the lack of space, tools, and ingredients. Five chefs in one space was very, very tight. Just like a restaurant kitchen! Every pot we own was put to use — multiple times. Everyone noticed how courteous all of the chefs were: they respected each other's space, they never bumped into anyone with a hot pan, and they were very creative in making space. One chef created his own pressure cooker by putting the lamb in a pot and then topping the lid with a piece of cast iron to create pressure inside the pot ("ghetto pressure cooker" he said!). All cooks are required to work with what we have in ingredients and equipment. One chef even found the necessary equipment; who knew we even owned a waffle maker!
And sometimes, catastrophes happen, even in the best of kitchens. In the last 10 seconds of competition, a sauce pot over turned and the luscious sauce was lost. What to do? The chef regrouped and used a good olive oil to moisten his roulade of lamb.
And the result? Simple beats complex, at least in St. Louis. Some chefs had a lot of bells and whistles, but the the winner kept the idea simple. Congratulations to Chris Bolyard of Sidney Street Cafe, who made a lamb fried rice and a braised lamb. Second place went to Jesse Mendica of Annie Gunn's, who made a lamb-lentil soup and deep-fried lamb meatballs with sweet potato waffles. The other contestants were Adam Gnau of Acero, Nate Hereford of Niche, and Andrew Jennrich of Farmhaus. I hope that all five chefs will share their creative talents in cooking classes at Kitchen Conservatory — they all have the right stuff!
Many people worked very hard to create this special event, including Melissa Clendenin, Mike Emerson, Steve Holmes, Kevin Nashan, Janice Neuwirth, Eric Scholle, Kevin Willmann, and many more. Thank you!