Need a make-ahead appetizer that people can't stop eating? This creamy, flavorful Mediterranean torte is both pretty and delicious. Several tips for making this dip even more flavorful:
Dried fruits, such as raisins or sun-dried tomatoes, taste much better if they are softened and rehydrated. Place the dried fruit in hot water for about 5 minutes — or for even more flavor, use hot brandy. I love rum-soaked raisins in oatmeal cookies.
All nuts taste better if they are toasted before using. The easiest way to toast is to place the nuts on a sheet pan and bake at 350 degrees for 5 minutes. Some recipes recommend a skillet, but nuts never toast evenly in a skillet and burn very easily. Also, the true Italian pine nut tastes much better than the inexpensive Chinese import of a different species.
Pre-grated or pre-crumbled cheeses are easy to use — but they taste terrible. The flavor and texture of the cheese is much better if you take the time to crumble the cheese. Pre-grated cheeses are treated to hold their shape, so the cheese will not melt or blend well.
Although you can purchase bottled roasted red bell peppers, they don't taste as smoky and wonderful as freshly-roasted. Peppers can be roasted on a gas burner or on a grill (gas or charcoal) or under the broiler in the oven until they are completely charred and blackened. Be sure to cover and steam to cool, because then they are easier to peel. Resist the urge to rinse the pepper, which will remove flavor.
Don't miss these upcoming cooking classes that are all about appetizers and tasty morsels:
Chic Hors d'oeuvres on September 28
Do You Phyllo Like a Party on October 26
Food Fete on November 3
Pintxo Party on November 13
The Ultimate Cocktail Party on December 9
Red and Green Cheesecake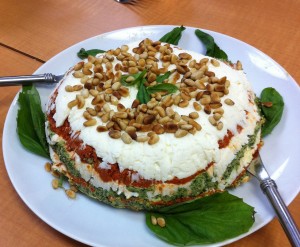 ½ cup chopped sun-dried tomatoes (if dried, soften in hot water for 5 minutes, then drain)
½ cup pine nuts
12 tablespoons butter at room temperature
12 ounces cream cheese at room temperature
8 ounces feta cheese or goat cheese or blue cheese or a combination of cheeses at room temperature
1 cup chopped Italian parsley
2 red bell peppers
2 garlic cloves, minced
Salt and pepper to taste
Finely chop the sun-dried tomatoes with the parsley and season with some salt. Toast the pine nuts in a 350 oven for about 3-4 minutes, then cool. Roast the peppers until the skin is blackened, then cover, and let steam until cool. Remove the skin, ribs, and seeds, then chop the peppers. In a bowl, combine the cheeses with the butter and garlic.
Line an 8×4" loaf pan or a 7-inch springform pan with plastic wrap. In the bottom, spread the pine nuts. Put half of the cheese mixture on top, then the tomato mixture. Layer half of the roasted peppers, the rest of the cheese, and the rest of the peppers. Chill, then unmold and serve with crackers.