Sometimes we make food just to turn the leftovers into something even better: leftover bread for bread pudding, leftover roast chicken for chicken salad, leftover beef stew for ravioli filling, and leftover shellfish for souffle. The way to make perfect fried rice is to use leftover cooked and cold rice. If the rice is freshly made and hot, the rice has too much water and steam and will not make a good fried rice.
The other secrets to fried rice are the same as the secrets to Chinese stir-fry:
Do not crowd the wok with too much food (Chinese recipes should not be doubled). Be sure to use a 14-inch wok as smaller woks do not provide enough room to stir.
Chop all the ingredients before heating the wok (prepping for a Chinese meal takes more time that cooking the dishes).
Cut the ingredients the same size and as thinly as possible so that the food will cook very fast.
Dry the ingredients before cooking. Adding wet ingredients to the wok will slow down the browning of the food and lower the heat.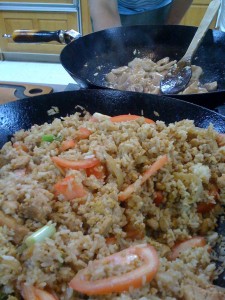 Fried Rice
1 tablespoon sesame oil
2 tablespoons vegetable oil
1 head of garlic, peeled and chopped
2 tablespoons minced ginger
1 carrot, peeled and minced
1 cup thinly-sliced Vidalia onion
½ cup thinly-sliced red bell pepper
1 hot chile pepper, minced
1 cup chopped meat: pork, chicken, or shrimp (cooked or raw)
1/2 cup peas
½ cup raw rice, cooked and completely chilled (about 1 1/3  cups cooked rice)
2 eggs, whisked
2 tablespoons soy or fish sauce
2 tablespoons chopped cilantro and/or green onions
In a wok, heat the oil. Add the garlic and ginger and stir-fry. Add the carrot, onion, and pepper, and stir-fry. Push the vegetables up the side of the wok. Add the meat and stir-fry. Add the peas. Push the meat and vegetables up the side of the wok. Add the rice and let cook until slightly browned, stirring and flipping the rice over. Push the rice up the side of the wok. Pour in the egg on the bottom of the wok. Add the fish sauce. Let sit for 30 seconds, then flip the rice on top of the egg. Flip the fried rice over and serve immediately (the egg should be moist, not dry). Garnish with fresh herb.
To learn more about making fried rice, join us for a cooking class on June 18: The Gluten-Free Asian Kitchen.