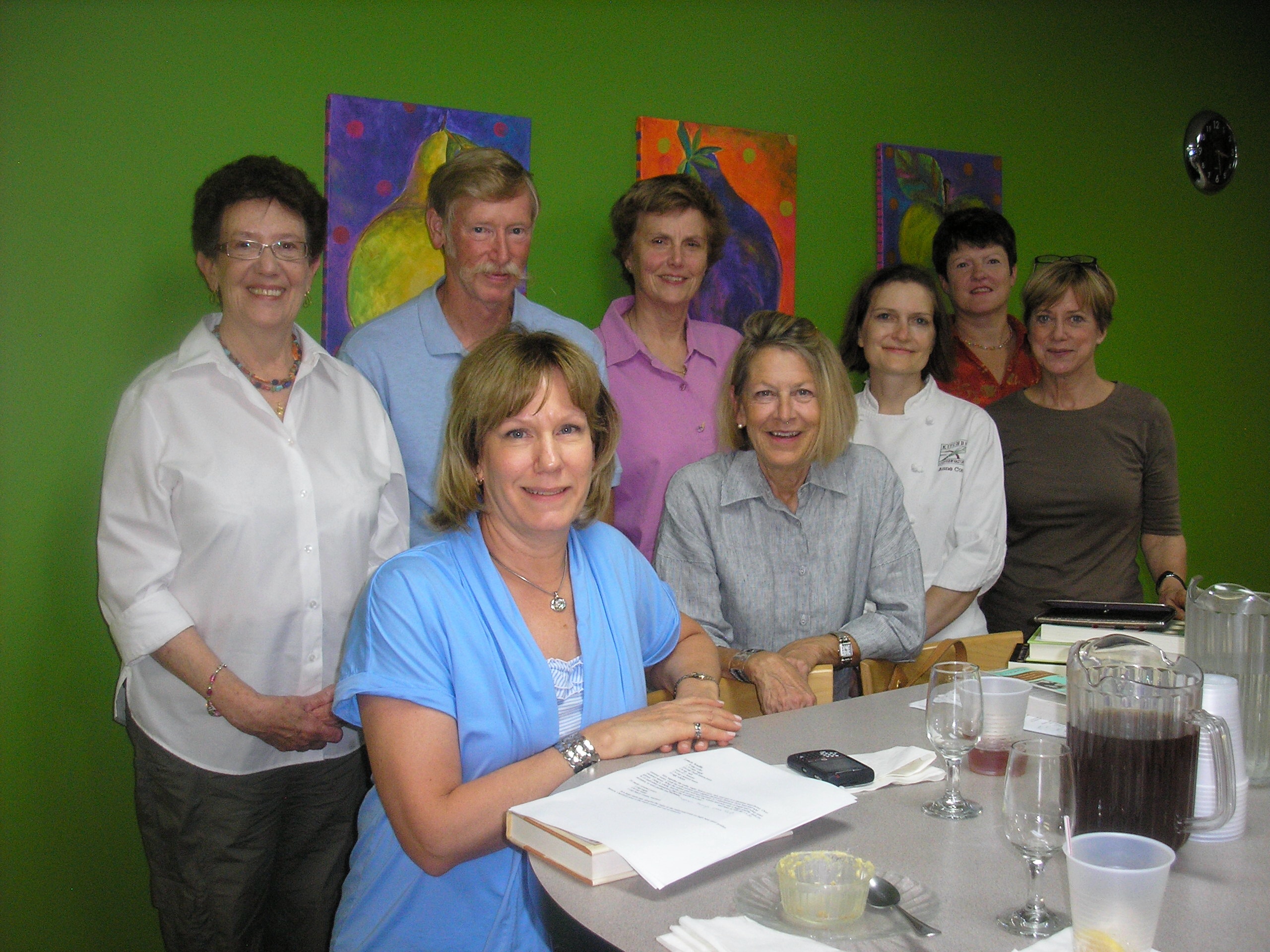 For four years, Kitchen Conservatory has offered a culinary book club. It is so much fun; I hope that you will consider joining us! We read, discuss, and eat.
The book club meets once a month on a Sunday afternoon at Kitchen Conservatory. We have read all kinds of books relating to food: memoirs, biographies, history, food science, politics of food, and novels. We cook food relating to the scheduled book. And we always have a lively and good-natured discussion on the book — there are a variety of strong opinions. On several occasions, the author of the chosen book has called in to join the conversation.
Unfortunately, the book club founder, Arlyn Silacci (far right in the photo), has recently moved back to her native California, but she promises to time her St. Louis visits with the book club classes! Missing from the picture is faithful regular Paul Daniel — who had never missed a book club until the most recent session.
We've read 45 different books on food. If you would like to catch up, my personal favorites have been Climbing the Mango Trees by Madhur Jaffrey, The Secret Life of Lobsters by Trevor Corson, The Lost Ravioli Recipes of Hoboken by Laura Schenone, and Shark's Fin and Sichuan Pepper by Fuschia Dunlop.
Our upcoming selections for the book club:
July 18: Their Last Suppers (a review of the last meals of famous people throughout history)
August 22: Appetite for America (a biography of Fred Harvey, founder of the Harvey restaurant chain with the Harvey Girl waitresses)
September 19: The Art of Eating In (a memoir of cooking in — not dining out — in New York City)
October 17: Medium Raw (Chef Anthony Bourdain's lastest collection of essays on the food culture)
November 14: The School of Essential Ingredients (a novel that takes place in a cooking school)
Pictured from left to right, back row: Connie Westerman, Bill Miller, Linda Miller; front row: Lynne Schroeder, Pat Hellman, Anne Cori, Doris Vogt, and Arlyn Silacci.