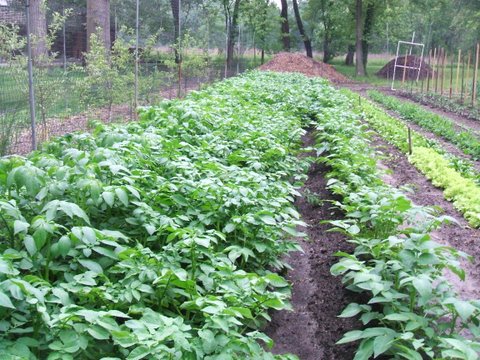 We plant and some years the yield is a cup. This year, the yield is truly a bumper crop. After 15 years of growing garlic, this year's garlic crop is the best ever. I've canned jar-after-jar of currant jelly. And we are overrun by potatoes. We are eating potatoes every single day; luckily, there are a hundred different ways to eat potatoes.
Today, I ate my first home-grown tomato of the season. Now, we will eat tomatoes BLD (breakfast, lunch, dinner) for the next 3 months.
Here are two recipes of the season. Yes, I always peel tomatoes before using — because they taste better. (To peel tomatoes or other soft fruit, use a serrated peeler.) Yes, I always salt cucumbers and tomatoes and let sit for 15 minutes before draining and using — because they taste better. Peeling garlic before slow-roasting in olive oil is much better and easier than roasting whole heads in the skins.
Roasted Garlic-Basil Potato Salad
1 head of garlic
1/2 cup olive oil
2 cups packed basil leaves
1/2 cup packed spinach leaves
1 tablespoon red wine vinegar
salt and pepper
3 pounds new potatoes
Peel the garlic, place the garlic in a ramekin and cover with oil. Bake at 300 degrees until tender, about 30 minutes. Cool. Place the basil, spinach, and vinegar in a food processor and puree. Add the roasted garlic and oil and puree until smooth. Season with salt and pepper. Boil the new potatoes until tender, then drain and cool. Toss with dressing.
Tomato-Cucumber-Goat Cheese Salad
1 cucumber, peeled and sliced
6 tomatoes, peeled and sliced
8 ounces goat cheese, sliced or crumbled
1 bunch watercress
Salt the cucumber and tomatoes and let sit for 15 minutes in a colander to drain. Line a platter with watercress and arrange the cucumber, tomato, and cheese on top. Drizzle with dressing.
for the vinaigrette:
3 tablespoons lemon juice
1/4 cup chopped watercress
1/4 cup chopped green onions
1 tablespoon Dijon mustard
3/4 teaspoon salt
1/4 teaspoon pepper
1/2 cup olive oil
Whisk together the lemon juice, watercress, onions, mustard, salt, and pepper. While whisking, drizzle in the oil.