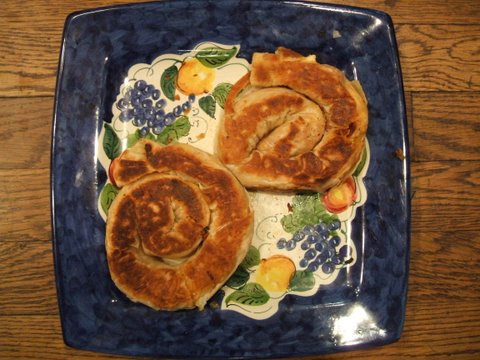 Phyllo dough seems so simple: buy a box from the freezer case, defrost, brush with butter, and wrap around a filling. But the result tastes like paper, so is homemade phyllo dough worth the effort?
Maria Sakellariou, who teaches Greek food classes for Kitchen Conservatory (next one is "Greek Goddess" on June 12), graciously taught me how to make homemade phyllo. I had always been intimidated by phyllo because I thought that the dough needed many hands stretching over a large table. Maria has a trick: cut the dough into ten pieces and one person can stretch the smaller dough. After all, a smaller strudel pastry is easier to handle than a large one.
Like pasta dough, the secret to phyllo dough is the thinner the better, so kneading the dough is critical to developing the gluten. Resting the dough allows it to relax, which means the dough is easier to stretch. When this dough is rolled around a filling and then baked or fried, it is flaky, tender, and flavorful. The texture is more substantial than the frozen variety, so it doesn't taste like paper. Yes, homemade phyllo is well worth the effort!
To learn how to make homemade phyllo dough, sign up for "Under the Cherry Tree" on August 6 when we will make homemade strudel with a fresh cherry filling. In the meantime, here is the classic apple version.
Apple Strudel
For the dough:
3 cups bread flour, plus more as needed
1 teaspoon salt
1 1/3 cups warm water
¼ cup olive oil
cornstarch as needed
clarified butter as needed
Stir together the flour, salt, water, and oil. With oiled hands, knead the dough (adding more flour as necessary) to make a soft dough. On a floured rollpat, knead the dough for 10 minutes (use a timer). Divide the dough into ten pieces and roll each piece into a ball. Dust each ball with cornstarch. Place in a bowl and cover with a towel (right next to the dough). Let rest at room temperature for a minimum of 3 hours. Dust with cornstarch. Roll each ball into a 10-inch disk. Let rest for 10 minutes. Roll out and then stretch with your hands until the dough is paper thin and about 24 inches in diameter. Lay on a tea towel and sprinkle with a little melted clarified butter.
Place the filling on one end. Roll up the dough into a cylinder and then shape into a coil. Heat some clarified butter in a frying pan and cook the coil until well browned on all sides. Alternatively, bake in the oven, but the fried phyllo pastries taste much better. Savory cheesy fillings are also delicious, but then I fry the coils in olive oil.
for the filling:
4 small apples, peeled and grated
¼ cup sugar
2 tablespoons rum
1 tablespoon butter
1 tablespoon apricot jam
Heat the apples in a fry pan and cover until softened, about 5 minutes. Remove the cover and dry the apples, about 5 minutes. Add the sugar, rum, butter, and jam and cook until combined. Let cool.