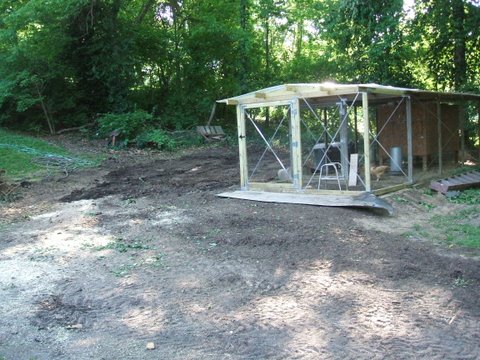 Our chicken coop now has an addition — a nursery for chicks. The separate section protects the young birds from being pecked by the older hens. Toward the back of the coop is the wooden house with a roost and the nesting boxes where the hens lay eggs. We have a dozen hens and we get about ten eggs per day. The metal sheet under the coop is to keep the predators from getting inside. The local coyotes really love tender chicken meat.
We put in the nursery so we can get day-old chicks, raise them, and eat them. At one month old, chickens weigh about a pound, and are called "cornish game hens." Chicken meat is the most succulent and tender between two and three pounds. Hens start laying eggs at about six months old (and will continue to lay for several years). So chickens are raised for meat or for eggs, but not both.
No, we do not have a useless rooster. The hen house is happier without that distraction.