The great advantage of icebox cookies is that you can have freshly-baked cookies with a minimum of effort. Mix together the dough, refrigerate, and then bake later. And who doesn't love warm cookies?
The challenge of icebox cookies is shaping the dough into a perfect log shape so that the cookie slices are perfectly round. Here is a trick: use a bamboo sushi mat to shape the log. The mat really works!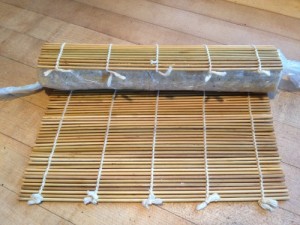 Maple Sable Icebox Cookies
1/4 cup walnuts, lightly toasted in the oven
1/2 cup maple sugar
1/4 cup granulated sugar
1 cup butter, cut up
2 egg yolks
1 teaspoon vanilla extract
2 cups flour
1/4 teaspoon salt
In a food processor, blend together the walnuts, maple sugar, and granulated sugar. Add the butter and blend until smooth. Add the egg yolks and vanilla and blend until smooth. In a separate bowl, mix the flour and salt. Fold in the butter mixture. Place the dough on a large piece of plastic wrap. Shape into a log. Use a bamboo mat to form the dough log into a round tube shape. Refrigerate until firm, about an hour. Slice the log into quarter-inch rounds and place on a lined sheet pan. Bake at 350 degrees until lightly browned, about 8 minutes.