For many diners, Indian cuisine is a mystery. So many spices! Plus, India is a huge country with different regional specialties. Many of the Indian restaurants in St. Louis are northern India. Aruna Menon, a culinary instructor at Kitchen Conservatory, hails from southern India where the cuisine is hotter and includes lots of fish and coconut.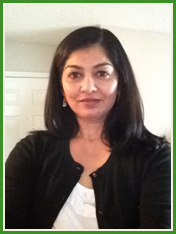 Read the lovely profile of Aruna Menon in the St. Louis Post-Dispatch Let's Eat, which includes several recipes designed with the home cook in mind.
Aruna has two available cooking classes at Kitchen Conservatory:
Cumin and Taste the Spices of India on Saturday, July 13 at 10:30 am:
Join Aruna Menon in the kitchen and discover the five basic spices of India – cardamom, coriander, cumin, garam masala (a blend of Indian spices), and white pepper. This hands-on class will create creamy chicken curry with cashews, prawn curry with coconut milk, pan-fried cauliflower and potatoes, crunchy cucumber and peanut salad, whole wheat chapatis, plus Indian ginger chai.
Date Night for Couples: The Summer Heat of India on Saturday, August 10 at 6 pm:
Couples will discover a bit of spice in the kitchen as this hands-on class creates a memorable dinner with Aruna Menon, born in Bangalore, India. Learn to prepare tandoori chicken with cilantro chutney, tangy pork curry, Punjabi chick peas, cucumber raita, parathas – Indian pan-fried flat breads, and Indian ginger chai.