Kristin asked, "Do better ingredients make better cookies?" Yes! If you are spending the time to make holiday cookies, don't scrimp on the quality of the ingredients. Here are some tips for baking better cookies: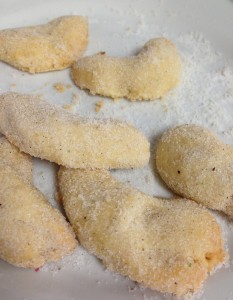 The temperature of the butter determines the texture of the cookie. Melted butter yields a thin and crisp cookie; cold butter results in a fluffier texture.
Make sure that the butter and sugar are completely blended before adding any other  ingredient. Depending on the temperature of the butter, this step can take 20 minutes.
Many cookie doughs bake better if the dough rests in the refrigerator for at least 30 minutes and up to three days.
I use unsalted butter because I like to control the amount of salt in the cookies. Even if the cookie recipe does not call for salt, I always add a 1/4 teaspoon because salt adds so much flavor.
Try to buy raw, skinned nuts. Nuts lose flavor after they have been toasted. Often the skins  on nuts — particularly hazelnuts and almonds — are so bitter that they change the flavor of the cookie. Skinning the nuts is a pain in the neck, but it is so important to get that beautiful green color of pistachios!
For the best flavor, use whole spices, then grind right before using — such as nutmeg, allspice, cardamom, and cloves. Two spices are actually better bought as a ground powder: cinnamon and ginger.
I am always generous with my most favorite flavor of vanilla extract and I use the best flavor of vanilla: Nielson-Massey vanilla extract. If the recipe calls for a teaspoon of vanilla, I add 1 1/2 teaspoons.
For an extra delicious flavor, roll the warm cookies in vanilla sugar. I grind up a whole vanilla bean with two cups of sugar in a food processor. Fresh vanilla sugar is irresistibly good.
Lightly measure the flour, but pack the brown sugar.
Lining the cookie sheets really makes a huge difference for the baker and potwasher, and the cookies look better because they slide off the sheet so easily. Parchment liners are excellent, but silicone mats are even better for sticky cookies like lace cookies, florentines, tuiles, pralines, and macaroons.
Keep cookies in an air-tight container and not in the refrigerator.
Most cookies are simply made of butter, sugar, eggs, nuts, spices, flour, and maybe chocolate. If one of those ingredients does not taste delicious, your baked cookie will not taste delicious. Taste or smell every ingredient before using. Oh, and buy a new jar of baking powder, because old baking powder does lose its oomph.
Happy baking!