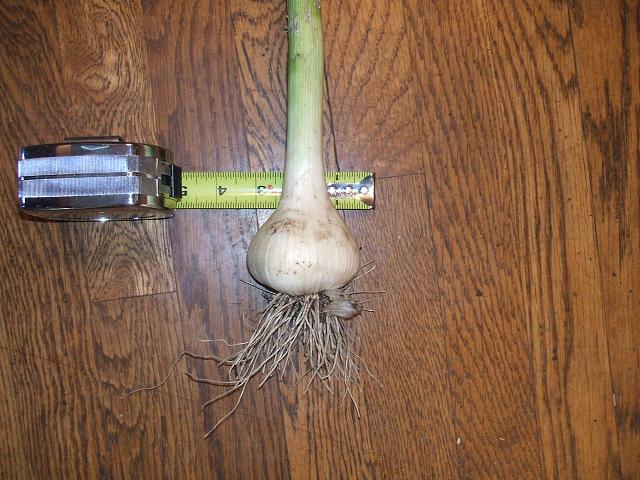 In your tummy. Today, we dug all of our 2,000 heads of garlic and fresh garlic tastes best when eaten fresh. If 2,000 people each bought one head of garlic at Kitchen Conservatory, our storage problem would be solved! Come on in and taste how delicious freshly-dug garlic is! Fresh garlic is not bitter, but sweet and juicy.
Like most produce, garlic is not improved with aging. But since garlic is a once-a-year crop, we store garlic so that we will have plenty to eat during the coming year. How much garlic will we consume in one year? About 250 heads.
Here are some tips for storing garlic: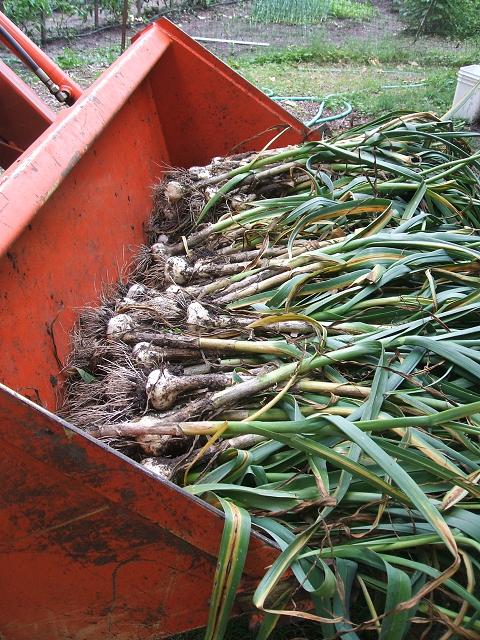 1. Garlic needs to dry. Garlic is moist when dug and it will rot if not allow to dry out. Do not put garlic in a plastic bag or in the refrigerator. Place the garlic heads in an open well-ventilated basket. Do not separate the garlic head into cloves. Tight heads store better than individual cloves.
2. Garlic likes to be cool. Do not stack the garlic on top of each other, because the garlic will produce heat. Dry, dark basements are a great place to keep garlic. If the garlic is stored properly, it should last until next year's crop is harvested — June 2012.
The pictures show the entire garlic stalk, which looks like a giant leek. We will trim the leaves and stalks and the hairy roots. The only part of the garlic plant that is edible is the white bulb. It's amazing how large most plants are for how little of the plant is eaten. I always get an quizzical reaction in cooking classes when we trim the inedible parts of an artichoke to get to the delicious heart. Most plants arrive at the store already trimmed, but gardeners know that their compost heap is full of garlic greens, corn stalks, potato leaves, tomato branches, and squash leaves and roots.