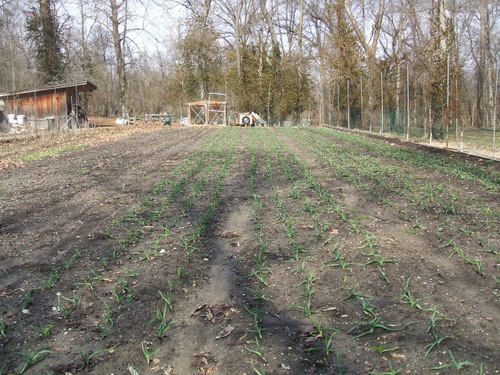 No, you cannot plant garlic in the spring; garlic must be planted in fall and then the garlic grows over the winter. When spring arrives, the garlic plants are nearly a foot tall! Weeding begins in earnest and we will also feed the plants.
We planted 2,100 garlic cloves last October (16 rows containing 130 plants). The garlic was planted 9 inches apart. Yes, we are trying to corner the garlic market — or at least prevent any vampire infestation.
On the left in the photo is some spinach that also wintered over. I sauteed some of the spinach with mushrooms and served with seared salmon. Directly in the back is our chicken coop and our tool shed is on the left. On the right are apple trees, which have not yet produced apples, but we are hopeful for this year!
If Mother Nature smiles on our garden, our garlic will be harvested at the end of June and available for purchase at Kitchen Conservatory.
Our fresh garlic cooking class will happen in July; in the meantime, here are some deliciously garlicky cooking classes:
"Two Chefs and a Tango of Tapas" has Spanish garlic soup on April 19,
"Mambo Italiano" offers veal Oscar topped with crabmeat in a garlic cream sauce on April 29,
"Grill Seekers" features gorgonzola and garlic-stuffed portabello mushrooms on May 1,
plus, roasted garlic pizza on May 13!
We are close to the end of our garlic supply from last's year crop. We need to eat up the garlic so we are ready for this year's crop. Here a great garlic recipe:
Garlic Beef
½ pound flank steak, thinly sliced across the grain into strips
3 tablespoons vegetable oil
1 bunch green onions, sliced on the bias
2 thin slices of fresh ginger, cut into julienne
4 garlic cloves, minced
For the beef marinade:
2 teaspoons soy sauce
2 teaspoons cornstarch
1 tablespoon vegetable oil
1 teaspoon dry sherry
Dash pepper
Mix together the ingredients and pour over the beef and let rest for 30 minutes.
For the sauce:
3 tablespoons chicken stock
2 tablespoons soy sauce
1 tablespoon dry sherry
1 teaspoon sugar
1 teaspoon cornstarch
Whisk together the sauce mixture. Heat the oil in a wok. Add the beef and cook for one minute. Remove. Add the onion, ginger, and garlic to the wok and cook for 10 seconds. Pour in the sauce and bring to a boil. Return the beef to the sauce and coat with the sauce.