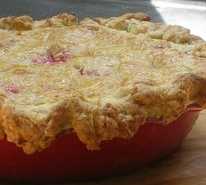 Joyce writes, "I took an apple pie making class on October 7 with my daughter, Cindy. I really enjoyed the class and learned a lot. I made the apple pie for the first time yesterday. I was very please that it turned out so well. Was very similar to Anne's! Thanks so much for teaching at a level we can all understand and improve our cooking skills."
Thank you, Joyce, and I am so happy that your pie was delicious! Pie is the best dessert possible and, yes, everyone can learn how to bake a pie.
The next pie-baking class is on Wednesday, November 24 at noon. On the day before Thanksgiving, join us to bake apple, pecan, and pumpkin pies and each class participant will get to take home three home-baked, delicious pies with flaky-tender pastry for the holiday dinner!
Everyone who takes our pie-baking classes learns this rule: cold dough + hot oven = flaky pastry. If the pie dough is not cold and the oven is not hot, you will never achieve pastry. Here are my tips for maintaining cold dough:
Use cold fat.
Use a pastry blender, as a machine warms the dough.
Do not overmix the dough.
Use a gravy separator for adding the ice water.
Do not handle the dough too much; do not try to make the dough into a perfect disk.
Refrigerate the dough for at least 30 minutes before rolling out.
Do not re-roll the dough; patching pieces is better than adding too much flour.
Brush off any excess flour before moving the dough to the pie plate.
Do not leave the dough out on the counter; dough should be kept in the refrigerator or in the hot oven.
Do not refrigerate the baked pastry, as the dough will get soggy.
Eat the pie within 24 hours of baking; pie is not improved with age.
All of our favorite pie-making tools are available here.
More pastry and pie classes will be on our Winter schedule, which will post online on November 1.