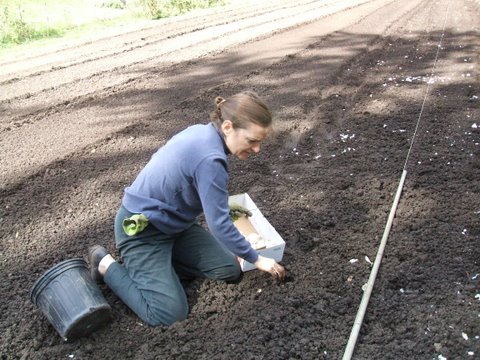 Garlic is a bulb, which is planted in the fall, to be harvested next year on July 1. Garlic is a wonderful addition to your garden, because it is a low-maintenance plant that delivers delicious results.
To plant garlic, separate the heads into individual cloves. There is no need to peel the cloves. Plant each clove one foot apart — and be sure to plant the clove root-down and stem up — about 3 inches deep. Cover with dirt.
Need garlic cloves to plant? We have some extra cloves available that are perfect for planting right now. Stop by Kitchen Conservatory to get some cloves. We always plant hard-neck red German garlic, which is more flavorful and different from the soft-neck garlic heads sold in the supermarket. Or just eat our delicious garlic.
Chicken with 40 Cloves of Garlic
1 whole chicken, cut into 8 pieces
salt and pepper
About 40 cloves of garlic, separated and peeled
4 tablespoons olive oil, divided
2 cups dry white wine
3 fresh thyme sprigs
3 fresh rosemary sprigs
1 teaspoon cornstarch
2 tablespoons softened butter
herb sprigs for garnish
Sprinkle chicken with salt and pepper on both sides. Heat 2 tablespoons olive oil in heavy large skillet over medium-high heat. When hot, add chicken and cook until brown on all sides, about 12 minutes total.  Transfer chicken to plate. Add remaining 2 tablespoons olive oil and garlic to pan and stir until light brown, about 3-5 minutes. Add wine and herbs; bring to boil. Return browned chicken to pan. Reduce heat to medium, cover, and simmer until chicken is cooked through (sauce will not cover chicken), about  additional 20 minutes. Remove the chicken pieces to a serving platter.
Dissolve the corn starch in a 1/4 cup of cold water; stir until there are no lumps.  Slowly add the mixture to the remaining sauce in the pan and bring to a quick boil, when thick remove from the heat and quickly whisk in the softened butter. Season sauce to taste with salt and pepper as needed. If the sauce gets too thick, add some chicken stock to thin a bit, readjust seasonings and add a bit more butter. Spoon garlic cloves and sauce around chicken and serve. Garnish with herb sprigs.