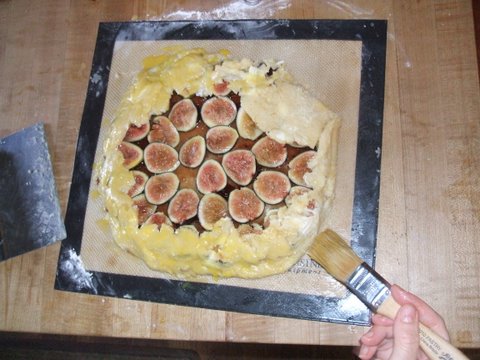 Figs are fresh and in season during the month of September, so I try to eat as many figs as possible! I vividly remember my first taste of fresh figs: on a pizza in Rome in September 1987. I was smitten with their luscious taste. Since then, my favorite pizza is fresh figs with gorgonzola cheese, caramelized onions, and bacon.
A simple way to enjoy figs is in a rustic dessert tart.
Fig Crostata

for the sugar crust:
2 cups flour
1/2 cup sugar
1/2 cup butter
1 egg
1 egg yolk
Mix together the flour and sugar. Use a pastry blender to cut the butter into the flour until the pieces are dime-sized. Stir in the egg and egg yolk and pull the dough together until it forms a ball. Chill for 30 minutes. On a lightly-floured silicone baking mat (I use the square cookie sheet liner, so I don't have to transfer the dough), roll out the dough into a large circle, about 13-inch diameter.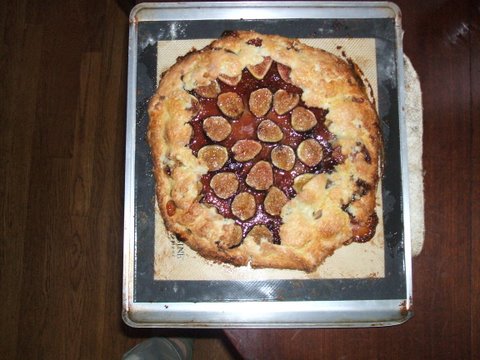 for the filling:
1/2 cup fig jam
16 fresh figs
egg wash: 1 egg yolk plus 1 tablespoon water
sugar for sprinkling
Spread the jam over the dough, leaving a 2-inch border. Wash and stem the figs. Cut in half and lay the figs, cut-side up, on top of the jam. Use a bench knife to fold the edge of the dough over the figs. Brush the edges with the egg wash. Sprinkle with sugar. Place the baking mat on a sheet pan and bake at 375 degrees for 40 minutes.
Serve with yogurt sweetened with honey.