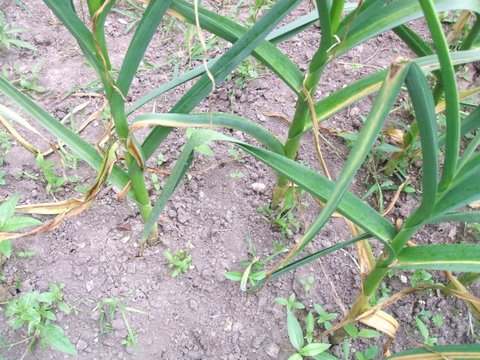 Our field of garlic (1,200 heads) is about two weeks away from harvest. The stalks look thick and healthy. We are so impatient for this year's crop that we dug one plant just to see how it looks…what a voluptuous beauty!
Our freshly dug homegrown garlic will be available at Kitchen Conservatory for purchase on July 1. Each head weighs about a quarter-pound. Last year, we sold 800 heads of garlic — and sold out, so we planted more this year. Mark your calendar and don't miss this year's crop, because the taste of fresh garlic is so wonderful!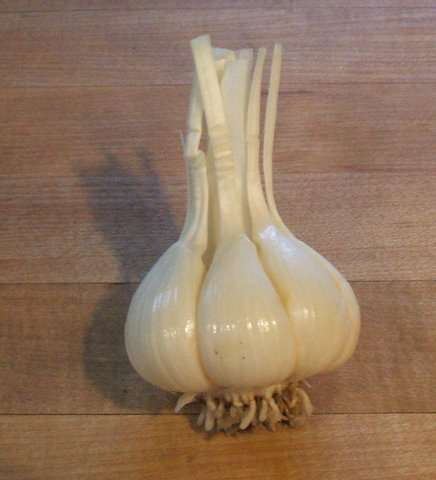 In the meantime, satisfy your garlic cravings with this Greek appetizer, a dip of roasted garlic and potatoes.
Skordalia
1 head of garlic, peeled
1/3 cup olive oil
2 russet potatoes, peeled and boiled until tender
Salt and pepper to taste
Juice of one lemon
Put the garlic cloves in a ramekin and cover with olive oil. Bake at 325 degrees until tender, about 20 minutes. Mash the garlic with the oil and whisk in seasonings and lemon juice. Put the cooked potatoes through a potato ricer and fold in the dressing. Taste and, if a little more heat is desired, add a touch of minced fresh garlic. Serve with toast or vegetables.