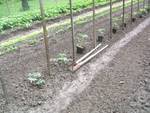 Last year, I described the advantages of planting and staking tomatoes using the Florida weave. We liked the technique so much that we are doing it again. In the first picture, the tomato are planted between the stakes. (In the background are our potato plants, which have grown like Jack-and-the-beanstalk, and the much smaller rows of lettuce, arugula, spinach, and basil. We are trying to grow English peas, which are only successful for us one year out of five. Unfortunately, the puny size of these peas so far means that this year will not be the one.)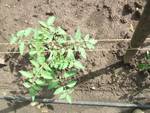 In the second photo, the first string has been woven, which will support the tomato plants. It is much easier and faster to weave the string than stake and tie up the plants. The weave gives great support as the plant grows through the two parallel strings. As the tomato grows, we will weave another string to support the plant, usually totaling five.
So we are not cooking or eating any tomatoes — yet. We are getting hungry for tomatoes, so that when they are ripe, we will eat them every day. During this cool spring, we are eating only salads, using our arugula and lettuces. (True seasonal eating means that tomato salads never have any lettuce!)
Here is a salad with another delicious red vegetable — beets. Since goat cheese can have a chalky texture, I like to blend it with heavy cream or mascarpone cheese.
Beet-Goat Cheese Salad
For the goat cheese balls:
12 ounces goat cheese
3 tablespoons heavy cream
1 tablespoon sherry vinegar
2 tablespoons minced shallots
2 tablespoons minced chives
Pepper to taste
1 ½ ounces toasted pistachios, finely chopped
Mix together the cheese, cream, vinegar, shallots, chives, and pepper to taste. Form into balls (using a #70 disher) and roll in the nuts to coat. Place on a lined sheet pan and bake at 350 for 2 minutes to warm. Place on top of the salad and serve immediately.
For the salad:
2 red beets, peeled and diced
Olive oil
1/2 pound lettuce or arugula or a mixture, washed, dried, and cut
Salt and pepper
Toss the beets with oil, and place on a lined sheet pan and bake at 400 until tender, about 15 minutes. Toss the lettuces with a little of the vinaigrette and plate. Toss the beets with a little of the vinaigrette and arrange on top of the lettuce. Top with the cheese.
For the vinaigrette:
Whisk the ingredients together.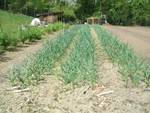 Note: After a customer called with questions on this recipe, let me clarify that sherry vinegar is not the same as sherry wine. The vinegar is made from the wine. Kitchen Conservatory sells sherry vinegar, which makes a delicious salad dressing. Also, a disher is like an ice cream scoop; it comes in 13 different sizes and dishes out perfect portions of everything from cookie dough to muffins to hamburgers. Every kitchen needs several different sizes of dishers!
Oh yes, and here is the garlic crop and it is growning beautifully! Our 1300 heads should be ready around July 1; mark your calendar!