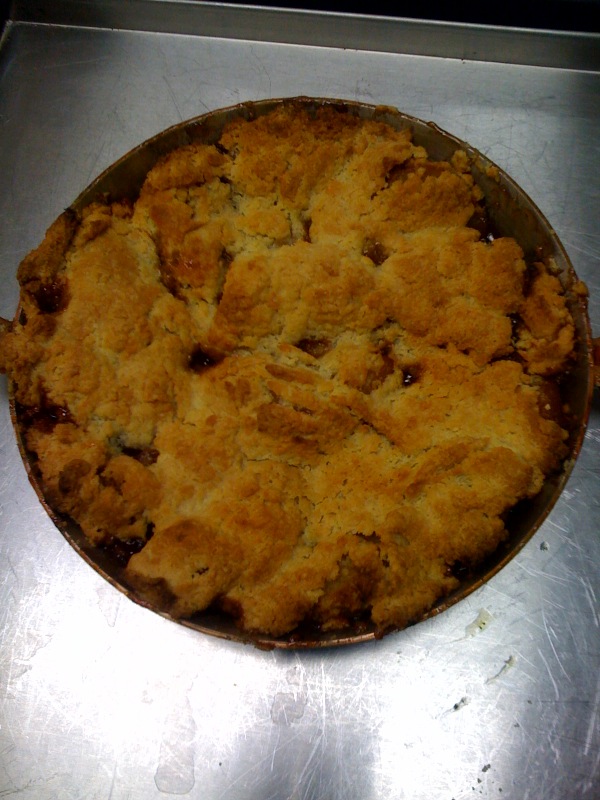 Tarts are open-face pies. The most spectacular tart is the simplest: an apple tart created by the Tatin sisters in 1898 with just three ingredients (butter, sugar, and apples). The secret lies in caramelizing the apples, then flipping the tart upside-down so that the luscious caramel is on top. The first picture shows the baked tart with the crust on top. Then, we flipped the tart for serving. Note how the apple halves are nested together; the large apples are crammed into the pan so that there is plenty of apples after they cook and reduce.
A tarte tatin pan is one that can be used on top of the stove, in the oven, and then the two short handles make it easy to turn the tart upside-down.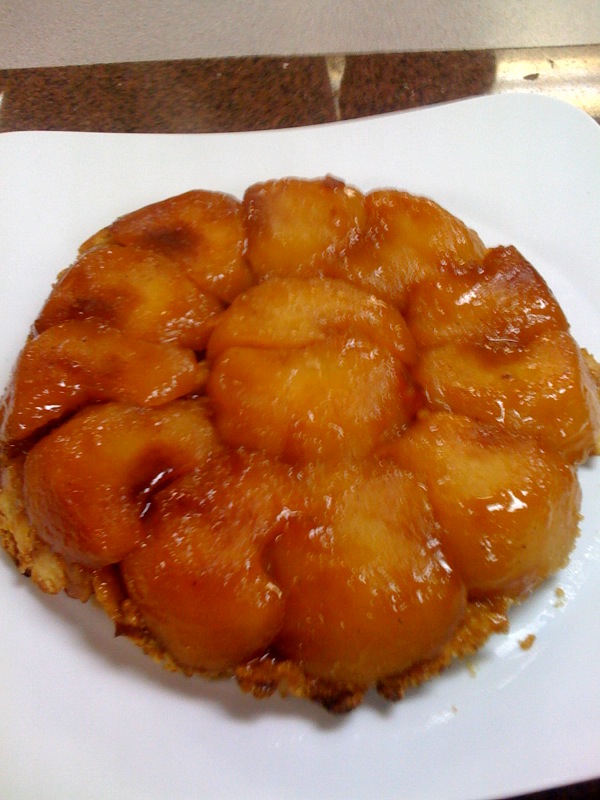 Tarte Tatin
for the crust:
1 1/4 cups flour
2 tablespoons sugar
1/4 teaspoon salt
8 tablespoons butter
1 egg
Mix together the flour, sugar, and salt. Using a pastry blender, cut the butter into the flour until the size of small pellets. Stir in the egg and form the dough into a ball (if necessary, add 1 tablespoon water). Refrigerate for 20 minutes.
6 tablespoons butter
3/4 cup sugar
8-10 apples, preferably jonagold
In a tarte tatin pan, melt the butter. Add the sugar. Core the apples. Peel the apples. Cut the apples in half. Nest the apples, as tightly as possible, in the pan. Cook on high heat for 10 minutes, or until the apples are browned. Use tongs to turn each apple over and cook for another 10 minutes. Remove from heat.
Roll out the dough on a rollpat to a 10-inch circle. Place on top of the apples. Bake at 375 degrees until well-browned, about 20 minutes. Remove and let cool for 20 minutes. Turn the tart upside-down onto a platter. Serve warm.
Learn how to make a tarte Tatin in a cooking class on Wednesday, February 10 at 6:30.