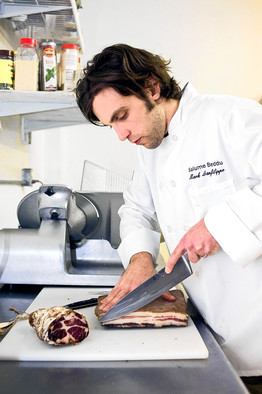 Mark Sanfilippo, chef-owner of Salume Beddu and a teacher at Kitchen Conservatory, is pictured in a front page article in today's Wall Street Journal.
Mark cures pork using traditional Italian methods. He makes soppressata, coppa, pancetta, spicy and sweet sausages, guanciale, and salami.
His small-batch production usually sells out, but you can taste his creations in several cooking classes at Kitchen Conservatory. Join Mark for a pizza class on February 22 and a Tuscan class on March 22. Yes, his famous cured pork products will be used in all of his classes. His students refer to him as "cute meat guy"!