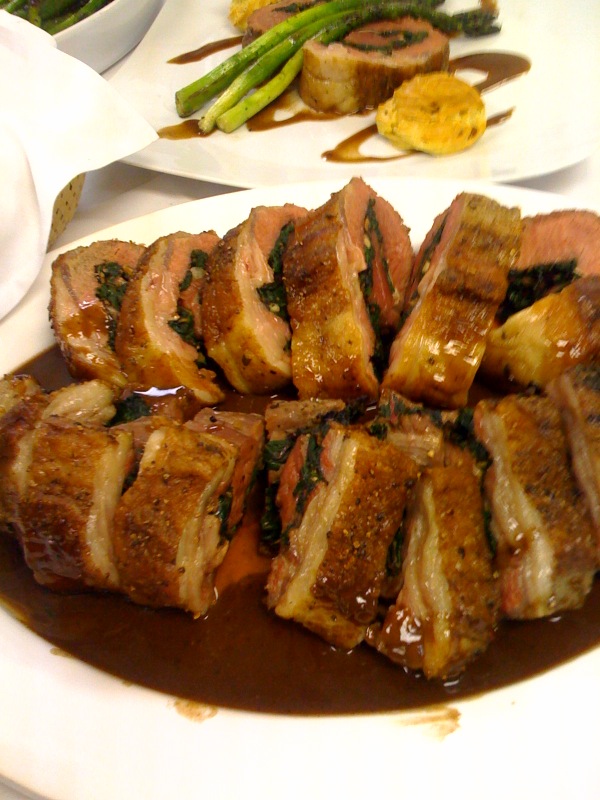 Pull out all the stops for New Year's Eve with this very elegant lamb dish. Saddle of lamb is the whole loin (which comes from the back of the lamb) — in other words, lamb loin chops that have not been cut up. In beef, this cut is the T-bone or porterhouse steak. Boning the whole loin is not difficult, since the T-bone is easy to see (use a 5-inch boning knife).
The cubed potatoes browned in clarified butter are addictively delicious.
Saddle of Lamb with Mushrooms, Swiss Chard and Pine Nuts
For the lamb:
6 tablespoons olive oil
1 tablespoon chopped onion
3 ounces mushrooms, chopped
1 pound swiss chard, stems removed and julienned
1 garlic clove, minced
Salt and pepper
1 tablespoon pine nuts, toasted
1 saddle of lamb, boned

Heat a tablespoon of oil and sauté the onion until tender. Add the mushrooms and cook for a couple of minutes. Add the chard, garlic, salt and pepper and cook until wilted and the excess liquid evaporated. Remove from heat and fold in the nuts. Cool. Spread out the lamb and butterfly to a one-inch thickness. (To butterfly, cut a long slit in the thickest part of the meat and fold out.) Pound with a meat pounder to an even thickness. Season well with salt and pepper. Place the stuffing and roll up the meat tightly. Tie with kitchen twine at one-inch intervals. Heat the rest of the oil in a fry pan and sear the meat on all sides. Place in a 400-degree oven and finish cooking, about 5 minutes. Use a probe thermometer to cook the meat to an internal temperature of 130 degrees. Let the meat rest for 10 minutes before carving.

For the sauce:
In the fry pan used for the meat, deglaze with red wine and cook until reduced by half. Add veal stock and cook until reduced by half. Remove from heat and add salt, pepper, and butter. 
Pommes Noisette:
2 tablespoons clarified butter
1 pound potatoes, cut into large dice
Salt and pepper
Melt the butter and sauté the potatoes on medium heat. Cover and let cook for 10 minutes. Uncover and cook until well-browned, about 10 minutes. Season with salt and pepper.