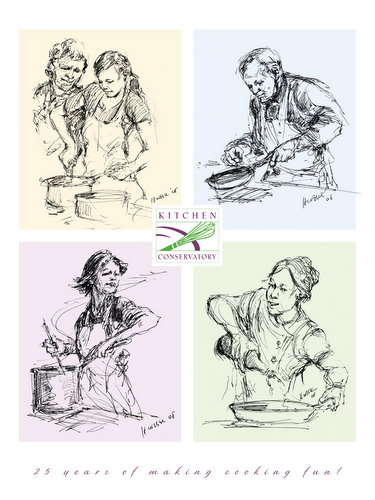 To celebrate the 25th Anniversary of Kitchen Conservatory, we commissioned a beautiful poster from the renowed local artist, Harry Weber. While attending a participation cooking class (of course, the crowd favorite, "Tuscany for Two"), he captured the spirit and joy of learning how to cook delicious food at Kitchen Conservatory.
The stylish pen-and-ink drawings are reproduced on heavy, textured paper, 18 by 24 inches, with a soft colorwash.
Quantites of the poster are very limited; purchase this beautiful and memorable artwork.
Last Sunday, we had a lovely party to celebrate 25 years with a pig roast, mojitos, and Dave Black on guitar playing bassa nova music. A huge thank you to all of the customers, chefs, and staff who made the party so much fun!