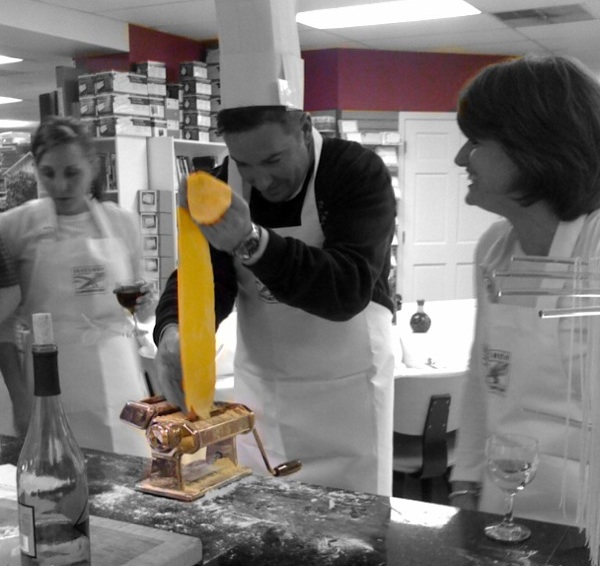 Everyone loves pasta and homemade pasta is actually very easy to make. Come learn how to knead, roll, and cut delicious homemade pasta in these upcoming cooking classes:
"The Best of All Pasta-ble Worlds" on July 14 at 6 pm with chef Vito Racanelli (cheese ravioli!)
"Journey Through the Past-a" on July 17 at 6:30 pm with chef Barb Nack (tagliolini with shrimp!)
"Pizza and Pasta on the Piazza" on August 5 at 6 pm with chef Chris Lee (fresh pasta with red and white sauces!)
Here is my all-time favorite summer sauce for homemade pasta. Join me in making it on Saturday night for "Bravo Italia."
Raw Tomato Pasta Sauce
2 vine-ripened tomatoes
4 ounces gorgonzola cheese
¼ cup extra-virgin olive oil
½ cup basil leaves, cut in chiffonade
1 head of garlic, cut into thin slices (yes, use our fresh homegrown garlic!)
Salt and pepper
Parmesan cheese for garnish
1 pound fresh pasta
Peel and seed the tomatoes. Cut the tomatoes into large pieces. Sprinkle with salt and let sit for 10 minutes in a colander to drain off the excess water. Toss the tomatoes with gorgonzola, oil, basil, and freshly ground black pepper. To make the garlic chips, peel and thinly slice the garlic cloves and slowly cook in olive oil until golden brown. Set aside. Cook the pasta, drain, and toss with the sauce. Garnish with parmesan cheese.