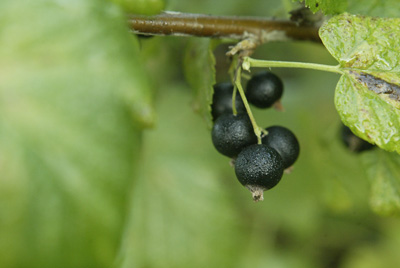 Two years ago, we planted 12 red currant bushes and 12 black currant bushes. Currants are not a well-known berry in the United States because they were banned from commercial cultivation for most of the 20th century. They are legal now and I was eager to have some because I had enjoyed the taste of currants in Europe (which never banned the plant). Red and black currants are not the same as dried zante currants, which are just tiny raisins.
Today I harvested our entire crop of black currants (the red currants are not yet ripe). The whole berries taste bitter, because of the skin. So, I juiced the berries, which produce a gorgeous red juice (only the skin is black). Our 12 bushes yielded a whopping 4 cups of juice! Maybe the plants will produce more fruit next year. I combined the juice with a package of powdered pectin and 4 cups of sugar to make currant jelly. It is sweet and tart and tasty. Tomorrow I will spread the jelly on a sponge cake to make a jelly roll cake.
The next canning class at Kitchen Conservatory is August 2. Yes, we are fully stocked on canning supplies.
We purchased the plants from The Currant Company.