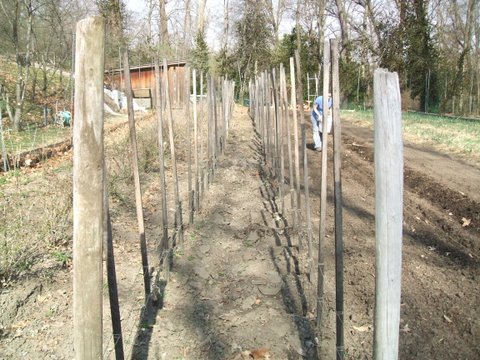 Last year we experimented with growing tomatoes in the Florida Weave. It was fabulous, so we left the stakes in place to do it again. The Florida Weave uses twine, woven around stakes, to support the tomato plants. As the plant grows, we thread the branches through the twine. Setting up the stakes takes some time, but afterwards, the tomatoes are so easy to stake.
The first picture in March shows the set up, before we planted the tomatoes. We dug holes and filled the holes with compost and fertilizer.
The second photo in June shows the tomatoes climbing through the weave on the left. The netting in front is the deer fence (much needed!) On the right in the photo is our garlic crop — 1200 heads! We've tested a few heads and the garlic should be ready to harvest in about three weeks.