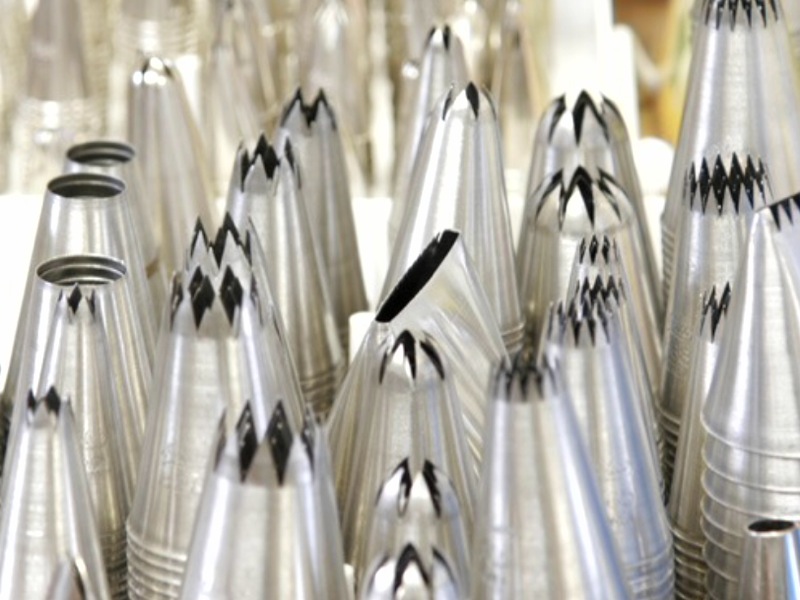 Need a hot tip? Since stock tips are suspect, how about pastry tips? Kitchen Conservatory sells nearly a hundred different sizes and styles of pastry tips — all beautifully shown on our pastry tip page (along with pastry bags and couplers). Pastry tips are the same as pastry tubes.
Although using a pastry bag may seem intimidating, pastry bags are easier to use than glopping or splotching with a spoon. A pastry bag can place the food in the exact position; a pastry tip makes the glob look beautiful. Here are tips for successfully using a pastry bag:
Place the tip inside the bag and cut the bag to fit the tip.
Couplers are handy to secure the tip and allow for changing the tip design.
Do not overfill the bag. More than a handful is too much.
Twist the bag to close and squeeze from the top of the bag with your right hand. Do not squeeze with your left hand (unless you are left-handed).
When the pastry bag is close to empty, use a bench knife to push all of the filling forward.
After refilling the pastry bag, "burp" the bag to remove any air bubbles.
To wash the reusable pastry bag, wash in the washing machine with the kitchen towels. Single-use disposable plastic pastry bags (at 25 cents apiece) are really easy to use.
Be sure that the pastry tips do not get eaten by the garbage disposal! Check the drain before running the disposal.
Small tips are for decorating cookies or writing "happy birthday" on a cake or forming beautiful roses.
Large tips are for icing cakes or piping mashed potatoes.
Pastry tips are not just for wedding cakes! Pastry bags and tips can be used for filling appetizers, choux puffs, filling twice-baked potatoes, balls of goat cheese on a salad, decorating soup with a swirl of sour cream, perfect chocolate truffles, beautiful pats of butter, and swirls of whipped cream. Any food looks more professional and attractive when piped through a pastry bag.