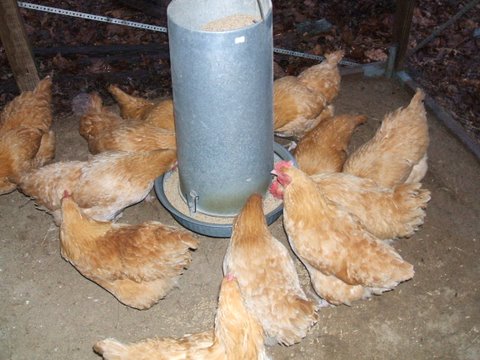 The girls continue to lay; each hen lays an egg a day. We've been feeding them the weeds from the garden, which they love. They also snap up any bee that falls out of the bee-line to the hives. (Since chickens love to eat bugs and worms, they never eat a "vegetarian" diet.) In celebration of spring, here is a favorite eggy recipe.
Strata
4 ounces pancetta, diced and fried, or prosciutto
½ pound brioche (or egg bread), sliced and toasted
12 ounces gorgonzola cheese
12 ounces goat cheese
1 1/4 cup heavy cream
1 1/4 cup milk
1 teaspoon salt
Tabasco (if desired) to taste
5 eggs
In a 9×13″ baking pan, place two layers of bread, pancetta, and cheese. Whisk together the milk, cream, eggs, and seasonings and cover the ingredients with the custard. Bake at 350 degrees for 45 minutes. Serve warm.