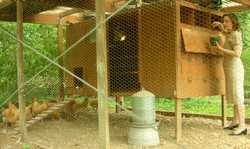 We keep chickens. We have a chicken coop in the backyard with a dozen Buff Orpington hens. They have beautiful reddish-brown feathers and a sweet disposition. Their egg shells are brown and the yolk an intense yellow color because of the corn in their feed. Generally, a chicken lays an egg a day and will continue to lay for about three years. We eat the eggs, not the chickens, especially since the meat on old chickens is tough.
We do not have any useless roosters, since their noise level makes them unneighborly pets. Unless you are interested in breeding chickens, the rooster is not necessary. So our eggs are unfertilized. (Females do not need males to produce eggs.)
This morning all of our chickens died, cause unknown.