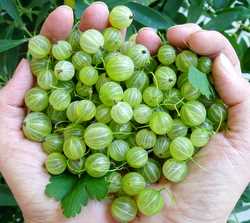 Every June, my aunt calls to alert me that the gooseberries on her 40-year-old bush are ripe. I rushed over to pick several pounds, because I cannot get them anywhere else and gooseberry pie is delicious.
Gooseberries are a rare fruit, but worth seeking because of their tart lemony taste. They are rare because for most of the 20th century, the American government banned the sale of the plants and the commercial production of the fruit because gooseberries (and red currants) carried blister rust disease, which is fatal to white pine trees. Disease-resistant plants have been developed, so gooseberries are no longer contraband.
Gooseberries should not be confused with cape gooseberries (also known as physalis), which is a yellow berry with a husk like tomatillos. Kiwifruit is sometimes called Chinese gooseberry, probably because they both share the same green hue.
By the way, the slang definition of gooseberry means a single friend who hangs around couples. A gooseberry fool, though, is not a hanger-on, but a scrumptious dessert.
Gooseberry Fool
1 quart gooseberries
1 cup sugar
1 1/2 cups heavy cream
Combine the gooseberries with 1/4 cup of water in a saucepan and cook until the fruit is very tender. Strain and (while still hot) stir in the sugar. Chill the fruit puree. Whip the cream until soft peaks and fold into the fruit. Serve in parfait glasses with macaroon cookies.